Haxball Galaxy Season 8 Season Preview!
Opening bit.
---
Perfection A
Last season finish - 1st
Only the second team after hR to retain the Galaxy Division 1 title, you would expect them to be favourites going into the new Season - but in some respects this isn't the case. After
Witsel
being inactive for a long period of time, he took the peculiar decision not to partake in the draft (missing out on the chance to sign former players Jai and fap) leaving him with a 3 man squad (which famously he used for the most part of last season) which includes the top scorer from last Season
Maddude
and Isreali GK
da silva
. This team really is the anomoly of the whole league, as their lineup is good enough to win the league again but major questions over Witsel's activity remain. Also, as they've somewhat stagnated over the last 2 Seasons whereas the rest of the league has steadily been improving. Of course, the combination of Witsel and Maddude is one that should be able to rip up the league once again irrespective of who is behind them in GK, as maybe it is a longshot to say that da silva will be available for all matches. The one saving grace for the team will be the fact that Waivers do exist, but not being near the top of the order will plague the team as should other captains (please for fucks sake) play it correctly they could force some good draft picks out of Witsel - draft picks that have become just a bit more valueable with the next Season only allowing 2 players to be retained including the captain. Until then though, the fate of PA will be the most interesting to see as the Season develops.
Main Man? -
Maddude
, best player in the league.
One to Watch out for -
Witsel
, in terms of other captains trying to find him on matchdays...
Where do I think they will finish? - Well, its either right at the top or right at the bottom isn't it. For now,
1st
.
wot other man sayin?
Jai
- 10th
arctic
- 7th
Jiminy
- 10th
---
Haxball Titans
Last season finish - 2nd
Renamed from Gash Hounds, Haxball Titans led by the mercurial bastard
Maverick
are now a stronghold at the top of the table, after finishing 2nd for the second Season in a row. Now more than ever it seems that it is the time for them to overcome PA and the rest of them to claim the title that Maverick has so deserved (smirk). After retaining star man from last Season
Schnuppel
, it seems as if he is going to build the team around him - bringing in IKEA teammates
FrA
and
cifteli
(who both play with him in that shit belgium league) who will most likely make up the core of the team.
Ferry
was the other player he retained and his activity will be questionable, but it seems as if even if he plays a few games for the team he'll make a good impact. The UK quota of the team is made up from
Lee
and
Hulk
. Both of which are actually good players in their own right, although it seems as if Lee may have been a tactical pick as Jds inexplicably didn't draft him in favour of Joehan. His inactivity is also not the best but he would pull his own weight in the team. Hulk has steadily been improving his haxball skill and his being a respectible human being skills also. Of course, Maverick is listed as a player and one can hope that we can see another cameo from him this Season, purely for the comedy value. It may be a running theme, but activity will really decide this Season moreso than others just due to the nature of it being summer and the precedence that has been set in other leagues and previous Seasons'. I think due to the fact that the core of the team is all very active this may give HT the edge over the others and can easily come out on top of the pack. However, I think that maybe moving Schnuppel from GK to outfield to accomodate cifteli may just be the downfall of the team, as cifteli's form has dropped recently and maybe currently he isn't at the level to deliver the title to Haxball Titans.
Main Man? -
Schnuppel
, one of the most versatile players in the league - he'll be the centerpiece.
One to Watch out for -
Maverick
, just to see who else he signs to bolster the teams ranks.
Where do I think they will finish? - For some reason I'm not sure if they've improved.
3rd
.
wot other man sayin?
Jai
- 1st
arctic
- 3rd
Jiminy
- 1st
---
Fatality
Last season finish - 4th
another Season and you still don't have a larger logo...
After finishing in their highest position since the days of opc (based dude btw. Seriously, I'd suck his dick), it seems
KaLaJaN
and co. could be contenders at the top of the table. Looking across to >haxleaf we see that their sister team - Stereo Panic - is sitting at the top of the table. This is down to the ever-present core of KaLaJaN,
Jairo
and
OliverAtom
who have been playing together for a long while now and this chemistry they have means they will have an advantage over most teams coming into the new Season. It seems as if
Hulk12
(the dutch faggot) has also become part of the core of the team and despite how he is as a horrible human being, he is a very dangerous attacker who can cause problems on his own. The revolving door of UK players brings us to
Stevo
and
Helios
who make up the UK contingent of the team. Stevo is a solid allrounder who will probably fill gaps in the team when he can, and Helios is a little bitch so don't expect to be seeing him.
Duke
is also in the team. idk either. Saying that, if he does turn up for the team it could just allow them a shot at the title, or at the very least another CL qualification spot. They'll have to rely on teams around them not performing to their best to do well though I fear, but that is hardly an unlikely occurance given the time of the year and the activity problems that come with it.
Main Man? -
Jairo
, the best player in the team who always seems to get goals.
One to Watch out for -
Stevo
, maybe its his Season...
Where do I think they will finish? - Other teams may outclass right at the top.
6th
.
wot other man sayin?
Jai
- 4th
arctic
- 4th
Jiminy
- 3rd
---
Night Eyes
Last season finish - 5th
After promise of the title last Season, the hype surrounding Night Eyes seems to have subdued. This could play into their favour, as their squad is full of maybe not spectacular players but players that if underestimated will do damage. After Gred's retirement (insert sarcastic comment about Gred here),
Love London
was the only player retained from last Season alongside
Gazza
. They are the 2 best players in the team and should they start every game will make for NE to be very dangerous. I wouldn't say this is likely however, as Gazza preferred to bench himself in favour of the other players on the team. I am unsure as to Love Londons activtiy or dedication to the team, but should it be like last Season then Gazza should have no complaints. The draft was always going to be tough for NE, as they were without any picks in the first round. Saying that, they can't be disappointed with the players they did get. The return of
arctic
with his good lappy has been hotly anticipated ever since midway through Season 4 where he had to bail on his HHH side due to his laptop breaking. After a successful Season at Overdose (finishing 3rd),
Bra
will be a good allround player (even though I think he is more effective as a GK).
Mamba
makes his debut in Haxball Galaxy with some good reputation, playing for top teams in both Yes and FM but I haven't ever seen him in 3v3 so maybe it will take a while for him to adapt to the different format. The last player drafted is the somewhat unknown
Iniesta
who is somewhat of a mystery as even I've lost track of what his alias is. Maybe he will be like Taylor Swift a few Seasons back and surprise everyone. The team is rounded off by
Apple
, who as some may remember played for NE before they disbanded all those Seasons ago. There will be question marks over whether he was worth a 2nd round pick but if Gazza rates him highly enough then it may just pay off for him. Overall, maybe they aren't as intimidating as last Season but you cannot underestimate them.
Main Man? -
Gazza
, best player in the team and he'll have to lead his team from the frontline if they want any glory.
One to Watch out for -
Iniesta
, who knows what he can deliver.
Where do I think they will finish? - Maybe not ruthless enough for a CL spot.
5th
.
wot other man sayin?
Jai
- 3rd
arctic
- 2nd
Jiminy
- 6th
---
The Defenders
Last season finish - 6th
After yet another disappointing finish for The Defenders, it seems like this Season is a better opportunity than ever to finally fight for the title. In terms of outfield talent, they are unmatched in the league. Keeping UK international
Psykout
from last Season, he alongside an old favourite -
naho
will likely be the starting pair that really look to be one that can take the league by storm. That however is only on a whim of activity, as
fap
and
aeRo
both lie waiting in the squad - both players of the very highest calibre who even if they turn up for a few games will give the team the edge they may just need against the best teams in the Division. A more reliable outfielder in terms of activity comes with
Niang
the Belgian, who is often part of teams that are right at the top and this winning mentality could be vital once again for TD's Season. Here is the bit where I struggle to talk about myself in third person. The choice of goalkeepers is with
mlf
and
ren
who aside from adminballing the league have been around for seemingly forever and between them will hopefully be able to backup the forward players well enough to finally bring TD back to its heights of Season 4 and at the very least a Champions League qualification spot.
Main Man? -
Psykout
, best player last Season will thrive with better support.
One to Watch out for -
fap
, twice a title winner and is very likely to be the difference.
Where do I think they will finish? - As ever I'm optomistic.
2nd
.
wot other man sayin?
Jai
- 2nd
arctic
- 1st
Jiminy
- 2nd
---
HaxPower
Last season finish - 7th
A team that now has legendary status in Galaxy folklore, HaxPower seem to be at their most dangerous this time around. Parting way with Lee to retain
Hannes
was a tough decision but one that I think will pay off, with Hannes being not only a great GK but also seemingly now a convert to DM in 4v4 - which will only aid him in his distribution skills. Alongside the ever-present combination of
Jiminy Cricket
and
Jds
will be stronger than ever, especially with Jiminy's improvement over recent months. They had a surprising draft, signing
Joehan
in the first round and despite his activity not being the best, he will be a player that can elevate HaxPower to the next level upon his return to Galaxy. The rest of the squad is made up of
Aaron
who is an experienced GK who maybe 3v3 isn't his natural home but he will provide good backup for Hannes.
Index
(or Coco.) is the best player to come out of TFPL and he should get enough playing time under Jds to try and prove himself in the league. There were signs last Season that it really could be the time were HaxPower break out of their shell in a way and play more aggressive haxball as they hold an advantage over most teams of having a solid core which they know that works and in the context of a league Season this could be vital.
Main Man? -
Hannes
, seems as if 3v3 could be his perfect format and should he be active he could carry the team.
One to Watch out for -
Joehan
, just to see how his activity goes as he could be amoungst the topscorers.
Where do I think they will finish? - I'm feeling confident for the team.
4th
.
wot other man sayin?
Jai
- 5th
arctic
- 5th
Jiminy
- 5th
---
Starlights
Last season finish - 9th
Renamed from TeamSwift,
Perkins
is at the helm of this team which will be interesting to say the least.
Rachel
was never that good but 3v3 was his/her/it's best format so maybe some old form could be eeked out of those tired bones. Perkins seems to decide whether he is playing well or not on a day to day basis but there seems to be something there which could unlock the level which he once played at.
Zizou
has never really seen much action in Galaxy but his experience from his old DEJA days should provide the team with something extra (xxxxx). I have no opinion on
vaqq
. The Romanians that make up the remainder of the team (
ImpeCabLe
and
Zumzzet
) aren't exactly your generic Romanian pricks and their maturity as people translate to haxball where should they both be active could actually strike up a very good partnership which will be hard to break down. You fear though for the team that some of the losses from last Season could grip the team once again and maybe activity or commitment could be a problem later down the line. I'd use the old cliché that they have to prove me wrong but I know they're going to bitch either way.
Main Man? -
Perkins
, he'll likely be there every match so a lot will be dependent on him.
One to Watch out for -
ImpeCabLe
didn't feature much for TD last Season but is a good individual player.
Where do I think they will finish? - They'll perform better than last Season but whether they'll climb the table I'm not sure.
9th
.
wot other man sayin?
Jai
- 9th
arctic
- 6th
Jiminy
- 9th
---
Eagles United
Last season finish - 10th
After another disappointing Season,
AM-99
I think has taken a better path with his team for this Season. Drafting
Te][o
first is a shroud move, as his own captaincy experience will be important if not only on the haxball pitch but off it in terms of organisation. Fellow Spaniard
Lapize
is a good attacking player as was seen for Noodle Squad last Season and they could create a dangerous combination between them. This backed up by
dale
in GK (I would assume would be his position) makes for a dangerous first team. Unfortunately the rest of the team doesn't really live up to that level. Saying that, players like the returning
bert
alongisde AM-99 and
Logitech
from last Season will at the least make sure that they have respectable scorelines each match. The anomaly here is
DoInK
, having never played in Galaxy before so who knows what he will do. On paper then it seems the side hasn't got any inherent flaws but the underlying problem is the fact that captain AM-99 will be on holiday for a large chunk of the Season so whether the players here can actually play together is another question entirely.
Main Man? -
dale
, a very good player who has experience with this team before and will be the pivot of the team in GK.
One to Watch out for -
Te][o
, maybe his performances will improve without the added responsibility of captaincy, who knows.
Where do I think they will finish? - Looking at past Seasons', it isn't looking rosy.
10th
.
wot other man sayin?
Jai
- 7th
arctic
- 10th
Jiminy
- 8th
---
Olympikarlos
Last season finish - N/A
Returning to Galaxy after a long absence, only
Karl
is recognisable from the team of yesteryear as co-captain
cyk
and his Portuguese comrades gives the team a lovely Iberian feel to it. A small squad of 5 players seems quite risky especially as Karl will be away for some of the Season, but those players will certainly know how to play with each other - playing in 2 other 3v3 leagues together. We saw last Season what the GK
TheFuckingLeet
can do and maybe with players around him he has more understanding with he will be able to progress to even higher levels of performance. The final Portuguese player in the trio is
Petrovix
, making his debut in Galaxy and personally I don't know much about him. It seems as if Karl trusts him enough though to be active. The UK quota is met by Milik (or
Draxler
as he is known now) who after bailing on Noodle Squad like a little bitch has returned to play again. To my knowledge however he doesn't play with the team in either their HaxLeague or BeneLiga iterations, so only a link between himself and cyk from SoP adds this equation up. Looking at their performances in those other leagues and it won't strike fear into the hearts of opponents as they sit in the bottom half in HaxLeague div 1 and near the top of a very weak BeneLiga div 2.
Main Man? -
cyk
, seems to do a lot of the captaincy work himself and is a very good techinical player.
One to Watch out for -
TheFuckingLeet
, seemingly the only GK in the team - it'll ride on his shoulders.
Where do I think they will finish? - It won't be embrassing by any stretch but top half will be.
8th
.
wot other man sayin?
Jai
- 1st
arctic
- 2nd
Jiminy
- 2nd
---
All Inclusive
Last season finish - N/A
Ok I can't think of a way to start this that isn't 'last but not least'. Last but not least is All Inclusive which is the only 'new' team to speak this Season. The team brings a lot of new faces into the league, with the core 3 of captain
Tsubasa
,
Storm
and aNy (
xt9
) all debuting this Season. They already have one accolade to their name, being the winners of a funcup hosted on the FM server (with a little help from myself). Both Storm and Tsubasa play for IKEA in FM and YeS Division 1 so they are both experienced players who should be able to keep their team afloat. xt9 is a player unknown to be before the formation of this team, maybe he played under an alias in the past but if not then he has arrived and picked up some good habits quickly. The final German in the team is
Alpha
who played for 3rd place Overdose last Season. I'm unsure as to it was pre-organised that he'd join the team but he is a good addition nonetheless. The UK contingent is made up of former Sheepshaggers teammates
Jai
and
Mick
- both of which are Goalkeepers, and without any other natural German GKs in the squad it seems like the old enemy will have to make a truce to bring this team to a top half finish. Jai of course, is probably the best GK in the league and should he find some chemistry (or even play) with the team then we could be in for a surprise.
Main Man? -
Storm
, the backup GK so naturally a good allrounder.
One to Watch out for -
Jai
, will he or wont he.
Where do I think they will finish? - I wouldn't be surprised if they were higher but maybe one vital ingredient lacks.
7th
.
wot other man sayin?
Jai
- 8th
arctic
- 9th
Jiminy
- 7th
---
Here is a pie chart for you people: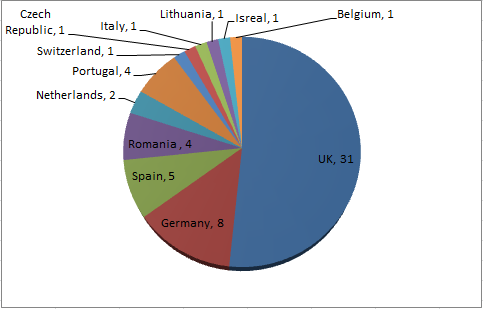 For context:
here
we made it breh
---
Closing bit.